Downloads
iHeartRO Patcher (Mini Installer)
To use the mini (patcher) installer, you need the following:
An up to date, working KRO installation.
An up to date, working, RagRE installation.
An empty data folder.
Functioning BGM folder.
Masaki's Full Installer
Contains full iHeartRO files
Uses iRO ragre patching methods
Does not contain BGM folder to reduce size
You can download the BGM Folder Here
Removed unnecessary .dll / files to save space
Having Problems? Try our Alternative Link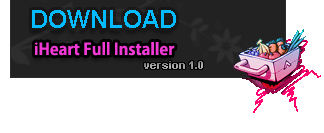 kRO & Ragre Installers

For new players and those in need of a new RO install.
Date Modified : 11-02-12